Although there is no way to host an event that will be 100% COVID-19 safe, we hope that this article will offer some guidance on how to create a table reservation style listing that is suitable enough to safely host customers in studio. In this article we offer suggestions for how to make the safest style listing that offers customers the option to reserve a table in studio.
Scroll down for video tutorials
1. Create a new listing like you typically would for any other event. If you have never done so, check out the link below to see how to create a listing from scratch.
https://support.placefull.com/hc/en-us/articles/360030925031-Creating-a-Listing-from-Scratch-UPDATED-
2. Change the title and pictures to reflect whatever event you are planning. In the overview, discuss any details that the customer may be wondering about the event. You may want to note that the pricing is by table, and how many customers can fit at one table. Remember, the goal with this listing is to prevent different parties from coming into close contact, you do not want different groups sitting at the same table. Make sure the customer knows that if a table fits 5 people, and there are 8 people in the party, they must purchase two tables. In the terms and conditions, you may also want to mention the refund policy if the studio is to be closed again due to COVID19.
3. To adjust the spots available for this listing we are going to hit the green edit bubble in the top right hand corner. For this listing I am going to set the spots available per time slot to 20, this will vary for each studio. If you typically can fit 40 people in your studio you may choose to reduce the max occupancy. In this example I cut the total occupancy in half. Once you have adjusted the spots available click save.
4. To adjust the pricing for this listing we will navigate back to the edit bubble in the top right hand corner. Once we are in the Pricing, Availabilities & Extras > General, we will select the custom pricing model. See the screenshot below to see what that should look like. In my example, there are 4 tables available for booking, each table that typically sits 10 people, will now only sit 5. Depending on how many tables (spots) you have available, you may need to adjust these numbers. Once you have adjusted your pricing, click save.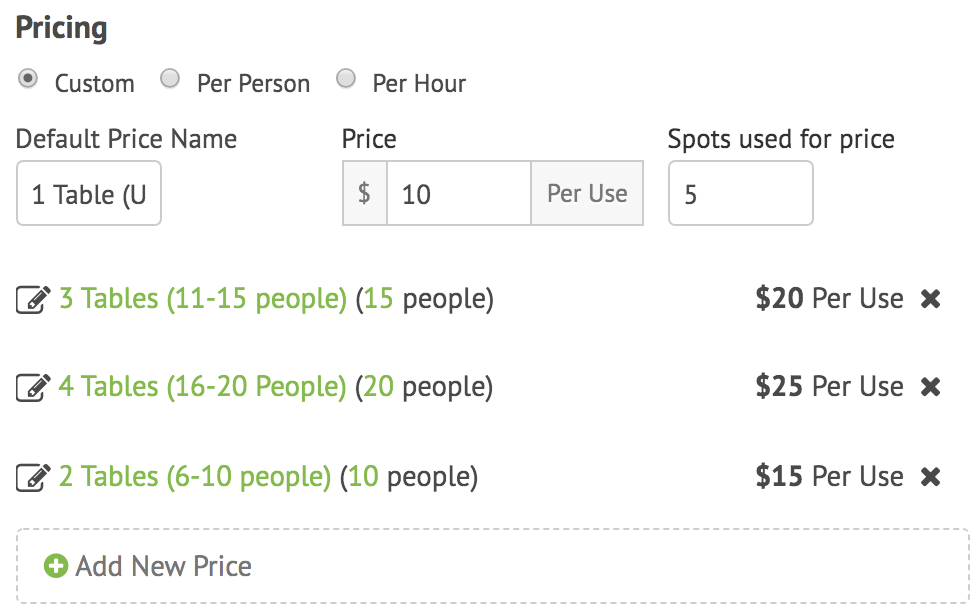 5. To adjust the availability for this listing we will navigate back to the edit bubble in the top right hand corner. Once we are in the Pricing, Availabilities & Extras > General, scroll down and edit the availability. Keep in mind that depending on what type of event you are doing, your availability will look a little different. See the screenshot below for what a recurring event looks. Adjust the availability accordingly and click save.
Recurring Event: Monday - Friday 1:00-5:00pm 2 hours each class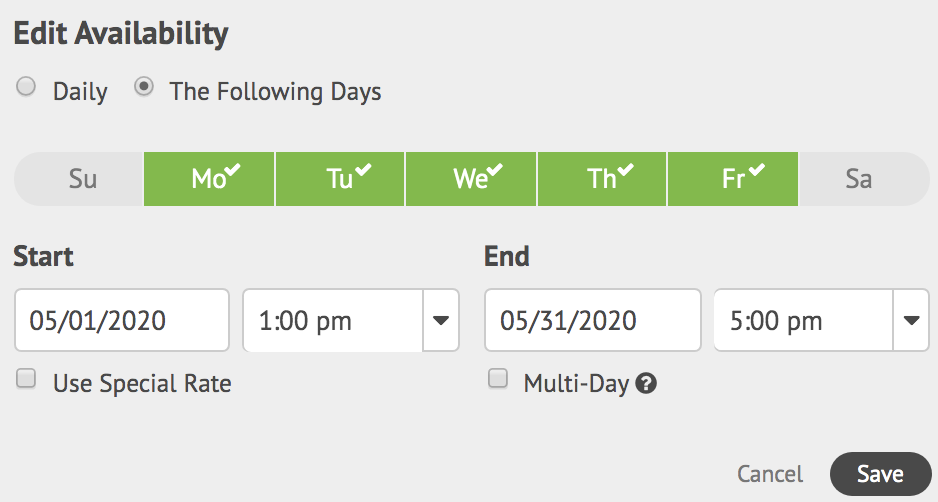 6. Once the availability is set, you will want to navigate to the Extras tab to select any questions that you feel are necessary to ask your customers. If you do not know how to create booking questions, reference the link below. The questions I asked were, "I understand that the studio has taken extra steps to ensure the safety of all customers, however there is still an existing risk that takes place by visiting public places such as the studio." and "What are then names of the people attending?". Once you are finished adding the questions, click save.
https://support.placefull.com/hc/en-us/articles/201775509-How-to-Create-Customer-Booking-Questions-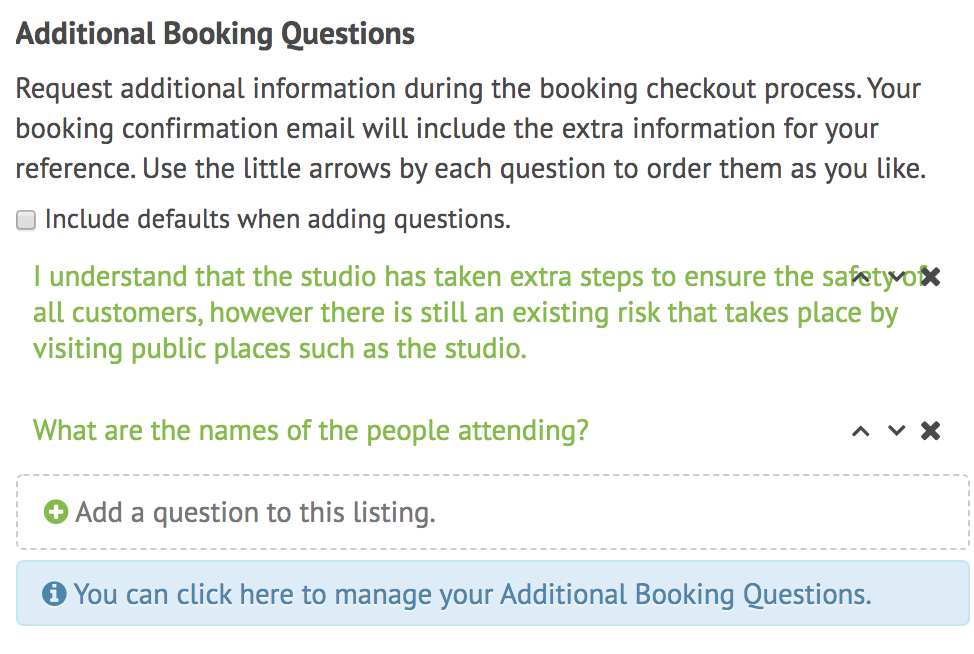 7. (Optional) Now that we have set up our Pricing, Availabilities & Extras, we are going to add a "Table" resource to our listings. A "table" resource will help prevent overbooking if we choose to create a second event that will occupy the same space as the current event that we are creating.
a. To create the resource click the resource edit bubble > All Resources > Create New Resource. Name the resource "Table", input the number of table you have available in studio and how many people can sit at each resource. See what I did below. Once these are adjusted accordingly, click save.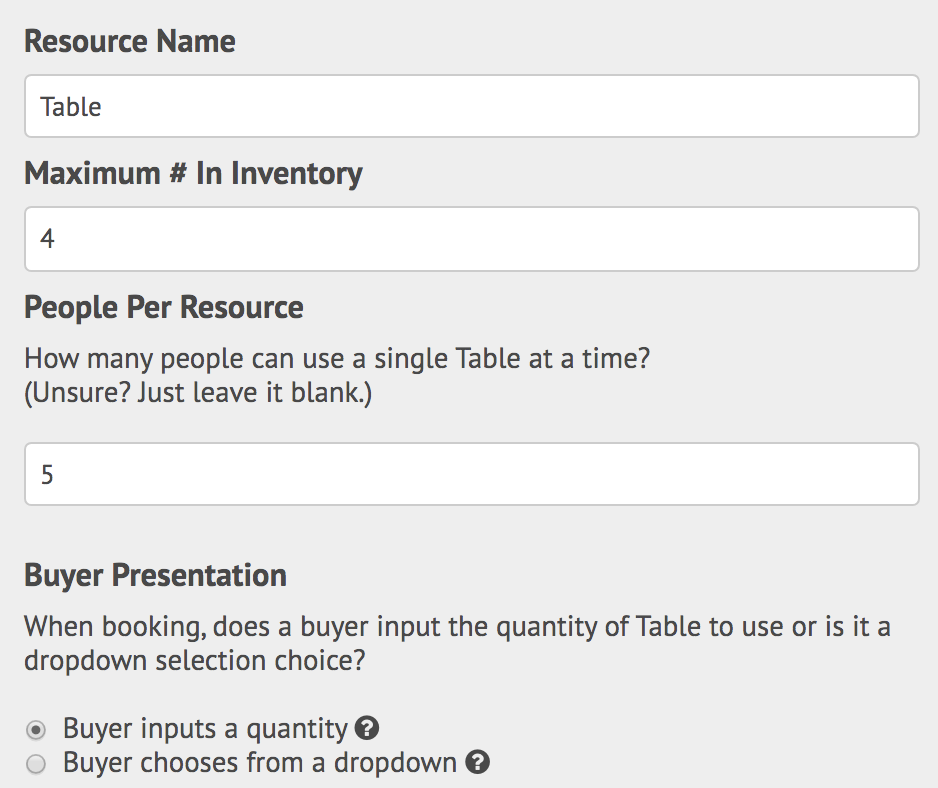 b. Return to the This Listing tab and click link a Resource > select "Table" resource. Next, check the box to hide the resource and then click save. See screenshot below. Once you do this the resource will be added to the listing. Add this resource to other listings to prevent over bookings.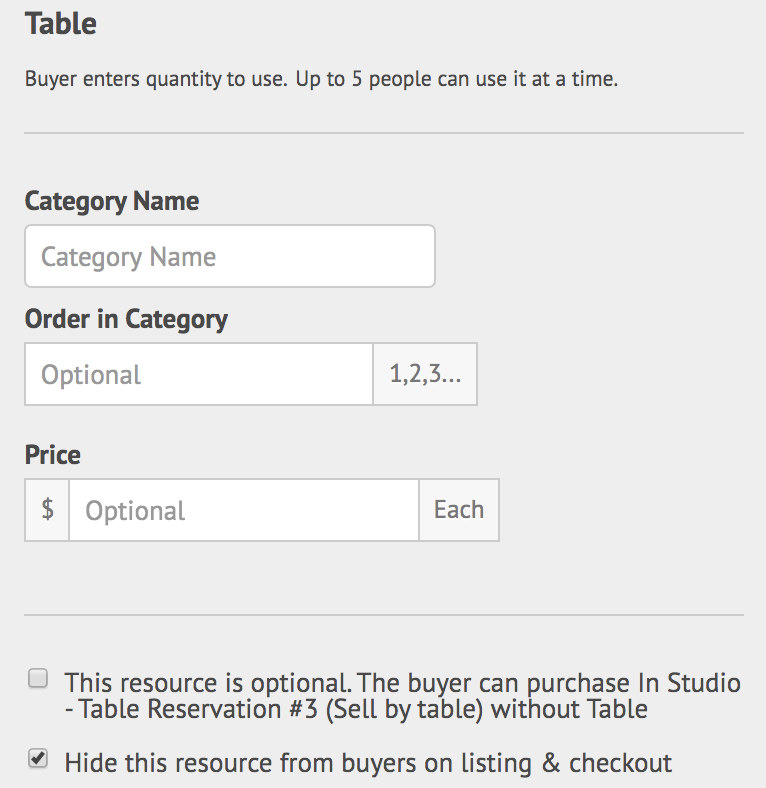 8. (Optional) If you would like to sell ceramic pieces, additional pricing per customer, or any other additional add ons, this is where you will do it. In my example, I choose to sell ceramic pieces for painting in my Add on section. However you can sell just about anything you want through Add ons. Click the Add on edit bubble > Create Add-Ons to create a new Add On. Once the Add On is created, click save. Below I have attached a few different ideas for Add Ons that you can include.
a. Sell Ceramic Pieces and so customer do not need to purchase in store (disclaimer - no inventory control for this, we are working on a solution)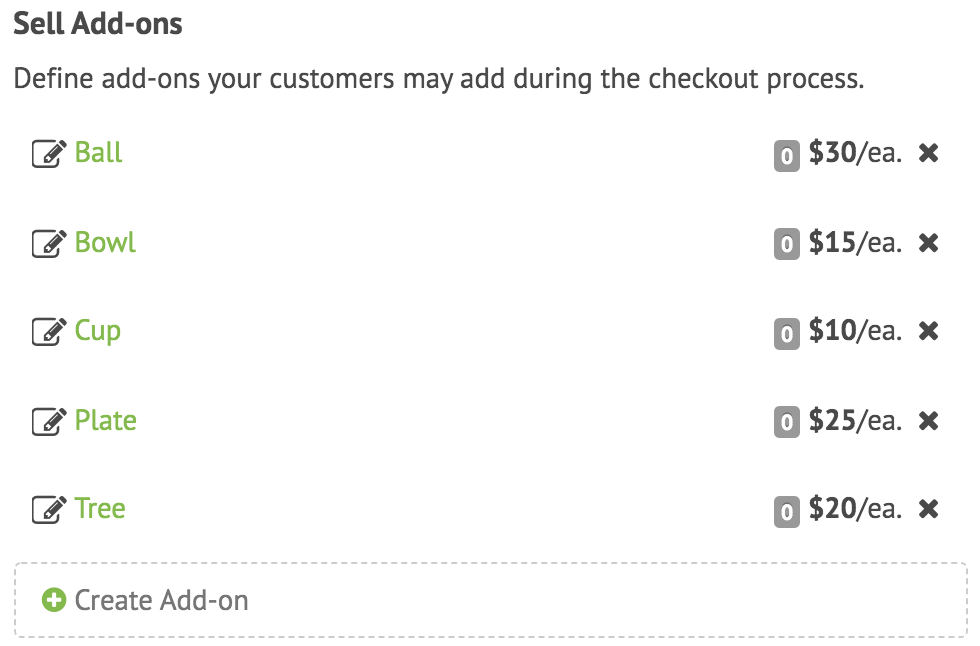 b. If you would like to charge an additional cost per person, you can do this as well. (This is good for classes)

c. If you would like to sell additional pieces other than the ones included with the table purchase.

9. The final step for creating this listing is to include a disclaimer in the Welcome Message. This disclaimer will state that with the purchase the customer is agreeing that the studio is not liable for any COVID19 related illness that may be spread. To add this message go to Manage > Listings > Welcome Message. Type out your message and click save. Once the Welcome message has been added you can publish the listing by clicking the publish button. See picture below.

10. Once you have done everything in the previous steps, you are ready to embed your listing. Reference the link below to see how to embed to your website.
https://support.placefull.com/hc/en-us/categories/202030023-Embedding-on-your-Website
Disclaimer: Obviously no event is 100% COVID19 safe. However, we believe that the steps above provide the safest option for hosting in studio events.
Video Tutorials
Part 1:
Part 2: