PlaceFull's calendar integration allows you to add your PlaceFull business calendar to Hotmail/Outlook.com to stay on top of your online bookings. Follow the steps below to add your business calendar to your Hotmail/Outlook.com Calendar on your desktop PC.
Windows phone: Simply add it to your Outlook.com calendar and it will then show up on your mobile device.
How to Integrate your Business Calendar with Hotmail/Outlook.com
1. From top menu select the arrow icon.
2. Click Calendar to go to your existing calendar.

3. Click Import.

4. Copy your chosen custom calendar link from the 'Your Custom Calendar Links' section below.
5. Click Subscribe on the left menu.
6. Put the copied link in the Calendar URL field of screen and click Subscribe.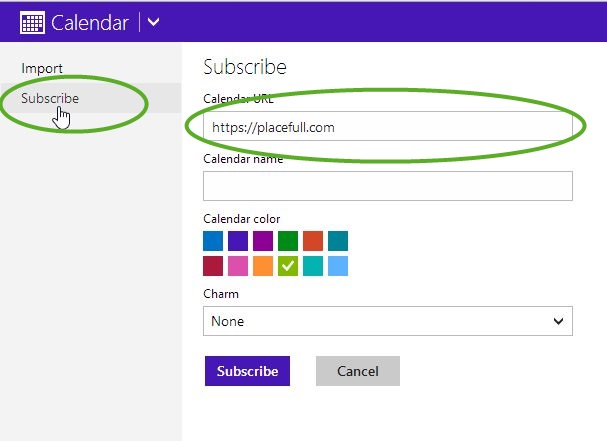 ________________________________________________________________________________
Custom Calendar Links:
The following are your personal iCal calendar links. Please choose one of the links:
Your custom iCal Link with customer information. Bookings on your external calendar will display customer email, name, etc. -
https://placefull.com/ical/6f059632-36d5-4f87-95f9-e63693e0fb0d?type=private&nocache
Your custom iCal Link without customer information -
https://placefull.com/ical/6f059632-36d5-4f87-95f9-e63693e0fb0d?nocache
 ________________________________________________________________________________
Refresh Interval: It may take a number of hours to for your Outlook.com calendar to update after a booking or unavailabilty is added to your PlaceFull account. It is controlled by Microsoft