PlaceFull's reporting system allows you to Export any report to multiple formats including Excel, CSV, and PDF. You can also easily print a report using the Print option. 
After you Run a report, the option to Export As... will be show in the top right. See screenshot Below. 

When you click the drop-down arrow, you will see all of the format options for Exporting and Printing: Excel, CSV, PDF, and Print.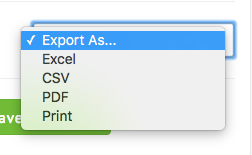 Simply click your desired option, and the download will be automatically generated. 
Helpful Hint: For a clean looking download, be sure to customize your report view before you Export or Print. You can easily filter for certain columns, sort by column, reorder columns, and search for specific data. Click here to Learn How to Customize a Report View.