The PlaceFull reporting system is robust and provides tons of information for every report available. We make it easy to customize your view of your report with options like column filtering, a search box tool, page view preference, column sorting, column ordering, and column resizing. Learn more below! 
Column Filtering
To choose which columns are visible in your report, use the Filter Columns dropdown menu. From here, simply click the column names to turn them on and off. When there is a check box by the column name, that means the column will be visible in your report. 
You can also use the Search Box to search for the category you are looking for or use the Select All or Deselect All buttons to turn on and off all columns at once.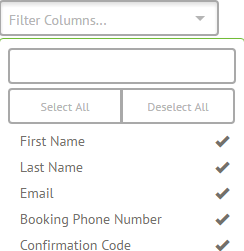 Search Box Tool
The Report Search Box Tool is located at the top right of the report table.  With this search box, you can search for any piece of data in your report. Want to see how many customers in your class used the promo code "10PERCENTOFF"? Simply type that in the search box, and you'll only see those results.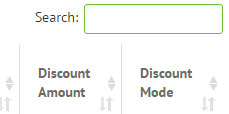 Page View Preference 
Above the report table in the top left corner, you'll see a dropdown that allows you to control how many results you see at once. The default number of results is 25, and the maximum number of results you can see per page is 100.

Below the report table, you'll be able to see how many results have been returned and change what page you're currently viewing



Column Sorting
Simply click on a Column Header to sort a report by that Column Name.  You can sort in two directions:
 Descending order - There will be a down arrow next to an indicator with values increasing in size as they go down.
Ascending order - There will be an up arrow next to an indicator with values decreasing in size as they go down.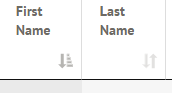 Column Ordering
To rearrange the order of columns, simply click, hold, and drag the column where you'd like. As you're dragging the column, you'll see the ordering change in real time.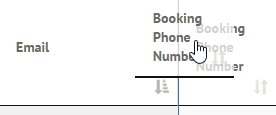 Column Resizing
To resize the columns within the report, simply move your mouse to the gray line between the column header You'll see your mouse icon change to the horizontal arrows. Click, hold, and drag to resize the column however you'd like.