Creating resources for your business is easy. Resource Management will allow you the opportunity to give your customers more choices and keeps your bookings organized to prevent double bookings when you have multiple parties going on in different party rooms!  
How to Create a Resource
1.Go to your listings page and click Edit on the listing you want to add a resource to.
2. Click on the green Edit bubble next to Resources.
This pop-up window will appear on your screen. 
3. Click All Resources. This will take you to a new section that has all of your resources that you have ever created.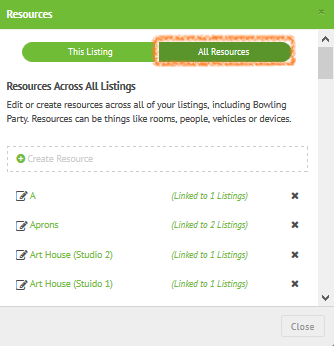 4. Click Create Resource.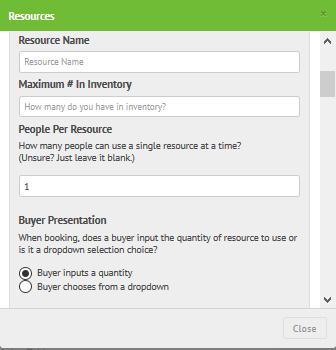 Resource Name - Name of the resource that is visible to the customer during the booking process.
Maximum # in Inventory - How many of the resources can be booked at a given time. (For example, if you have 3 different party rooms available during the same time slot, the inventory would be 3 and will prevent a 4th party from booking a room if the other 3 get booked.)
People Per Resource - How many customers can use one resource. (For example, a bowling center may allow 5 people per lane resource, where as a party room resource could handle 30 people.)
How Resources Can be Displayed to Customers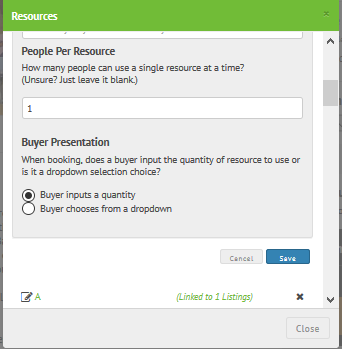 Buyer Inputs a Quantity - Checking this box allows your customers to decide how many of the resource that they would like to use. (For example, bowling centers may use extra lane resources and give customers the options to type the quantity of how many extra lanes they would like to add to their reservation.)
How Quantity Input Option is Displayed to Customers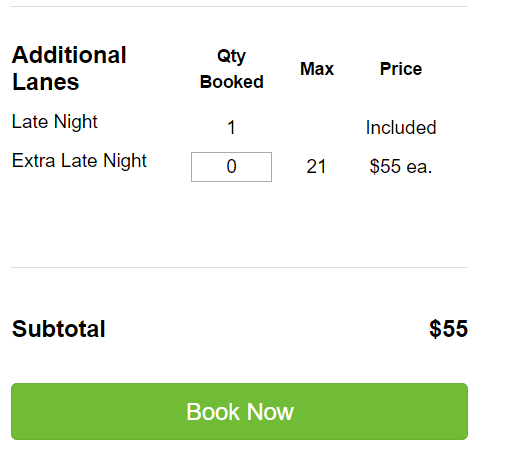 Buyer Chooses from a Drop-down - Your customer can only choose one resource from the drop-down option. With the drop down option, you can categorize the resources so they are all under the same drop down or have multiple drop downs with different types of resources. This is a good way to set-up your resources if you want to provide your customers with more than one option because resources can help keep track of inventory as people book the event. 
How the drop-down Option is Displayed to Customers